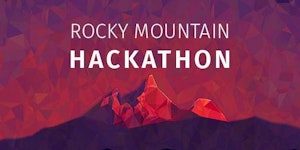 Had a great time at the
Rocky Mountain Hackathon
this weekend! There's nothing like staying up late coding and hearing a fellow student of Computer Science explain the basics of calculus at 3am!* I learned so much in such a small amount of time, and was actually able to make a difference with a team!
I spent a lot of time learning about the various projects and how they are going to make a difference in our country and the rest of the world. Some of them were apps for connecting communities to church, others were more about getting resources and information to countries around the world. There was one that helps make translating the Bible easier, and possible to do online with others. Another team worked on an artificial intelligence bot to scan social media for clues of human trafficking transactions and report them to police.
The team I joined was working on a portable device that shares educational materials to others over a built-in wireless network. You might be wondering how that can be useful in areas of poverty if people have to have an electronic device to access this content. But that was one of the most surprising things I learned at the hackathon: these people may not have enough money for clean water, but most of them do have feature-phones capable of accessing digital media content! From what I understand, they often need them for online banking transactions. I hadn't thought that could be the case, but several representatives from
WorldVenture
and
Faith Comes By Hearing
backed it up.
Because there are so many people with devices that can consume content, there is a huge opportunity for us to get them the materials they need. It gets really exciting when you think of it this way: before, you could bring physical books, which are much larger than this little device and could only be read by one person at a time. Now, with this pocket-sized battery powered router and a USB drive of our choice, we can send gigabytes of data at a time to dozens of clients at once! As long as they have a web browser on their phones, they can download the resources. You can put anything on the devices, really. We were loading them with multiple languages of
Khan Academy lessons
and K-12 Wikipedia articles (also in multiple languages, depending on the country).
To add to the challenge, we need something that is not culturally or religiously offensive. It also needs to be so simple and understandable that a completely illiterate child could look at the menu and find what they need, in their own language! That's quite a task. That's what I was working on late into the morning for a couple days, and I have to admit, it was a ton of fun.
I was on a team with four other people. I worked a lot with Josh, who was worked a lot on the backend, trying to get a chat interface and other features in working order. We had a graphic designer on the team who created an amazing new logo and several icons. Kirk, the head of the team, knew the most about the devices, and helped us get them set up and running with the custom firmware.
Although we didn't finish the project in the couple days we had, we were able to get an experimental interface more or less working, and we have a clear idea of what to do in the days ahead. I plan on keeping in touch with the team as I continue to develop the frontend. Josh helped me start adding some JQuery to my HTML and CSS code so it could become interactive. I've never used JQuery before, so a lot of my time was spent learning as much as I could in a short time, then trying to put that knowledge to use. I ended up with mixed success, but I put the project on a git repository so I can keep ironing out the kinks.
A little icing on the cake came when we were awarded "Best Overall started before the hackathon!" I was honored and amazed. I felt so undeserving because I just did some web design--nothing real special. But I was on an amazing team, and that team had an amazing goal: giving people a chance at education using the best technology possible who wouldn't have it otherwise. I'm so glad I was a part of that!
I can't believe how hard it was to say goodbye to people I had met just two days ago, but it was. I made some really great friends, met some incredible people and had an amazing time using technology for good. I look forward to keeping in contact and collaborating with the team in the future, and, of course, to next year's hackathon!
*No sarcasm there. It's strangely serene coding in the early morning, and I can't wait to learn calculus in more detail now.